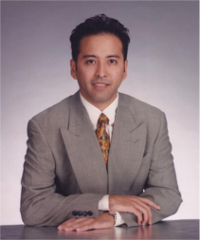 Originally from Lima, capital of Peru, Dennis Pow-Sang was born into a family of prominent surgeons and nursing professionals. As a result, early in his life Dennis learned the meaning of professional responsibility and the absolute necessity of fulfilling those responsibilities with the highest degree of ethics and honor. At the same time, through the example set for him by his parents and other family members, Dennis developed a heightened understanding and sensitivity that are part of leading a life of caring for others.
Dennis's family ties to Houston go back to his childhood. His father was a medical resident at St. Joseph's Hospital. In the mid 1970's, In order to develop his English language skills and familiarity with American culture, Dennis began to spend his school summer vacations in Houston, where he attended School in Memorial, Spring Branch and Westbury High School. Graduating high school with honors he went on to earn a B.A. in communications and psychology from the University of Houston. After graduating from U of H, Dennis spent two years in Paris, France learning French language, history and culture also traveling through Europe, thereby further broadening his multi-cultural experience.
Dennis began his professional career at Coca Cola Foods, as a logistics specialist and materials coordinator. There he supervised production from raw materials distribution to final production and delivery to retail vendors. Dennis was also responsible for training new production plant personnel throughout the U.S. One of his major accomplishments at Coca Cola Foods, was the highly successful planning and coordination for Minute Maid Products when they were a sponsor of the XVII Olympic Winter Games held in 1994 at Lillehammer, Norway.
Combined with his work ethic, communication skills and multi-cultural background, Dennis' experience with the intricacies of logistical operations put him in an ideal position to become an outstanding real estate professional. In 1996 after five years at Coca Cola Foods, Dennis embarked on a career that eventually would lead him to become a leading Real Estate Broker in Houston. In fact, shortly after becoming a Realtor, Dennis became a long time "Top Producer" at two of Houston's larger real estate firms.
In 2001 Dennis became an independently Licensed Real Estate Broker. This allowed him to establish his own independent firm, Southern Prime Realty. His early experience in real estate had led Dennis to conclude that there was a shortage in Houston of Realtors who were experienced and knowledgeable about the various aspects of new residential construction. As a result Dennis developed the knowledge needed to serve both builder and buyer with skill and confidence. Dennis expanded his professional repertoire to include a thorough and ongoing understanding of financing, appraisal, zoning ordinances, building codes, lot restrictions, title issues, deed restrictions, and many other topics related to new construction and development. Because of his expert knowledge and skill, Dennis was able to gain the trust of many of Houston's leading luxury homebuilders who hired him to represent their various projects.
Dennis' experience in real estate is broad and runs deep. The knowledge and expertise that he has developed over many years as one of Houston's leading Realtors, enable him to foresee potential roadblocks and obstacles in the way of his clients goals. As a result he is quickly and efficiently able to implement creative and resourceful solutions. Because of his quick response and focus, he has been able to bring many deals back from the brink of failure. Because of his uncanny ability to anticipate potential problems in advance, Dennis is able to be thoroughly prepared to deal with them as they arise: this saves his clients time, effort and capital. Dennis delivers success by being diligent and determined, and by paying fastidious attention to the details involved in taking a real estate transaction from its inception to closing. As part of this process Dennis always places his clients best interests above any other priority.
Dennis is proud to serve on the Board of trustees of the Bush Cares Project, as its Vice-Chair. The Bush Cares Project, founded in 2010, is a 501c-3 service organization that aids U.S. Veterans returning from the wars in Iraq and Afghanistan, with housing, employment and counseling services. As its mission, The Bush Cares Project has chosen to focus on the needs of women Veterans returning home to Houston, after they have completed tours of duty at the front lines of combat. Sadly, this is a segment of the Veteran community that is regularly underserved by existing organizations. Dennis feels honored to have been afforded the privilege to serve our Veteran community: he is grateful to be able to enlist his wide-ranging experience and expertise in the service of U.S. Veterans of War.
Coca Cola Foods 1991-1996
Swilley – Hudson 1996 – 1998
Karpas Properties 1998-2001
Southern Prime Realty, Inc. 2001-present
Description:
Professional, focused, determined, persistent
Highly Ethical, Efficient
Attentive to Detail
Knowledgeable, Experienced – broad experience in all aspects of real estate business
Multi-cultural
Responsive, quick to act
Creative problem solver: knowledge and experience enable him to foresee obstacles and work his way around them quickly and efficiently
Courteous team player, friendly and personable, sensitive to clients and their needs.
Astute, clever, resourceful